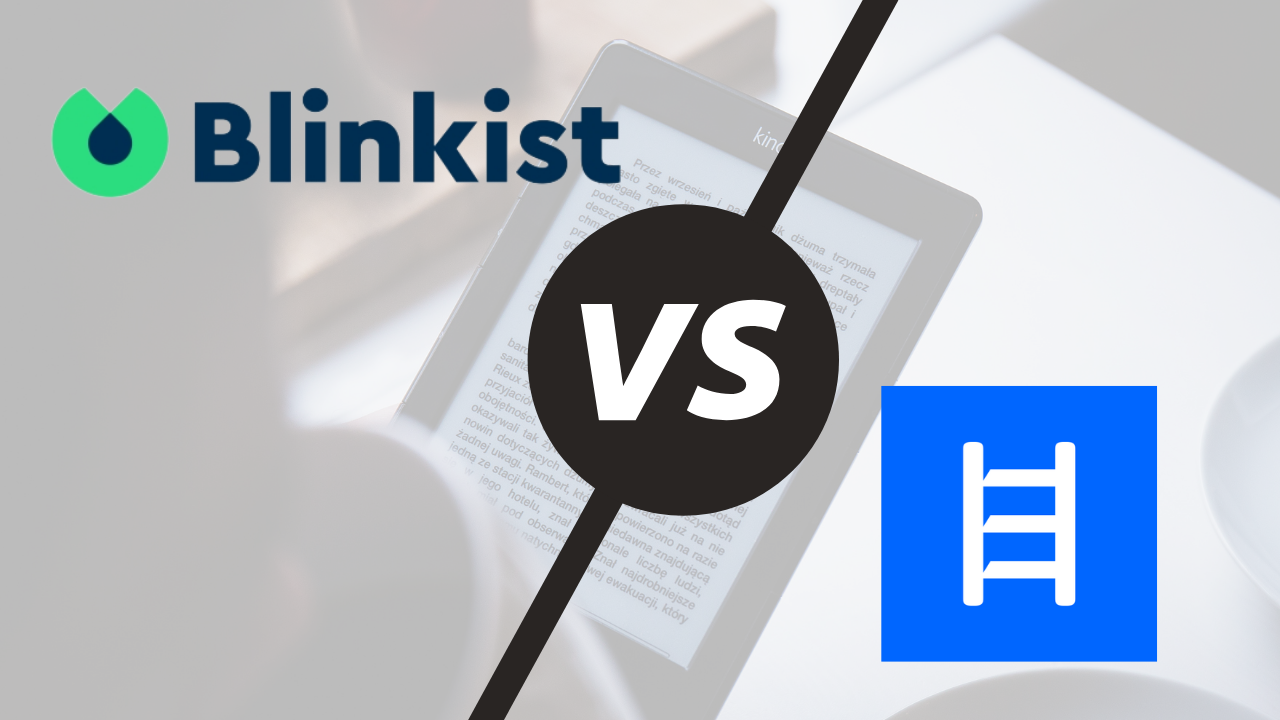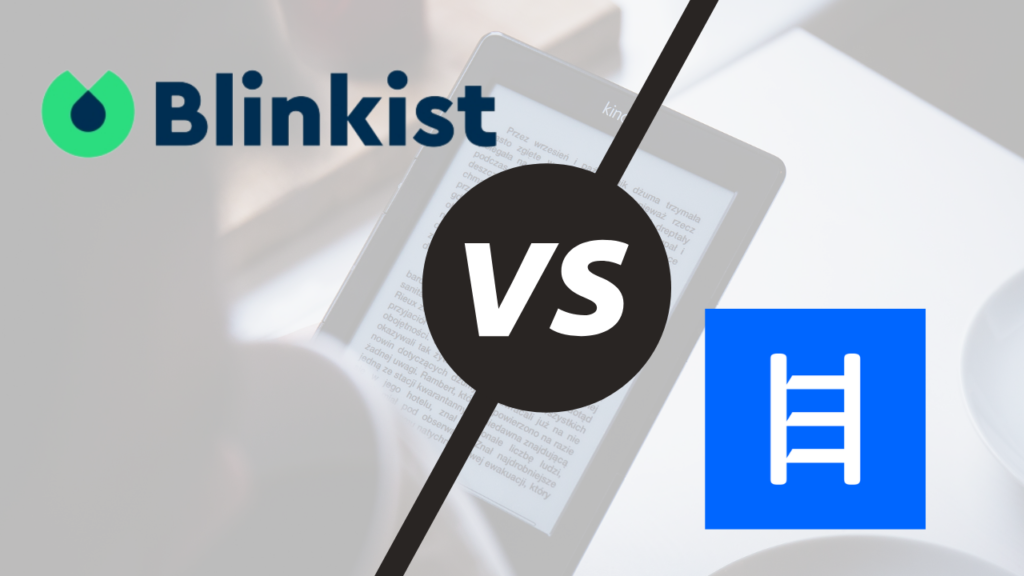 In this fast moving lifestyle of modern world, most of the people find it fatiguing to read a whole book. Given their busyness with work and office/ education, people have no time left in their schedule for reading something. But that doesn't mean the end of publication houses, or that people have stopped reading altogether. To overcome the time shortage, startups have come up with a tech solution. Where they provide a summarized version of the book on their website and applications and allows you to read the summary of a book within fifteen to twenty minutes. Blinkist and Headway are both such book summarized applications, where you can get the idea and essence of a book within minutes. This facility is only available for non-fiction titles, as fiction enthusiasts prefer to read a book thoroughly and enjoy their reading time.
Blinkist has the bigger market capture as compared to that of Headway, but before making any decisions let's first know a little about both the applications.
[elementor-template id="2869″]
About Blinkist
Blinkist is a book summarizing subscription service based in Berlin, Germany. It was founded by four friends with a idea to utilize the time people spend scrolling randomly in between their work and chores into something from which they can learn and reflect. Blinkist was founded in 2002 and now has over 18 million users worldwide. And shares biggest ideas from bestselling non-fiction via audio and text. The people at Blinkist call the summarizing process as 'Blinking', and they have blinked over 4500 non-fiction titles till the date. The Blinkist application is free to download on all platforms and so is setting up an account on the application, although the free account limits you to read only one 'blink', which is from their own daily pick, and changes everyday. The Blinkist premium subscription provides you unlimited access to the summaries and some other benefits, which are :
Audio Version of the summaries.
Offline download – as much as the whole library
Sharing your favorites to kindle.
About Headway
Headway is an education tech startup that aims to maximize the benefit of books while spending only fifteen minutes on reading. Headway provides with professionally summarized version of non-fiction books and tries to maximize and cover insights and ideas of a book in a bite-sized summary. Headway was founded in 2019, and currently has around 3 million users worldwide. Headway also has a premium subscription, and offers a free trial to new users.
Blinkist Vs Headway
Let's find out which one of these two is the best. We are going to compare both apps on the basis of their factors of differentiation :
Which one has the Best selection of Books?
Blinkist has the upper hand when it comes to selection of books. Their library has over 4500 summaries available. Almost all of the popular non-fiction titles are available on Blinkist.
While Headway has not more than a few hundreds of books summarized. Although headway doesn't have a huge number books available, it provides summaries of many current and most prominent non-fiction titles.
Score
Blinkist : 1 Headway : 0
Which app is easier to use?
Both the apps are more or less equally easy to use. Blinkist allows the readers to browse from a vast selection of books, the reader can pick a title, add it to the his/her library and start reading. As simple as that.
More or less same goes with Headway.
In both the app's users have limited access with a free account.
Score
Blinkist : 1 Headway : 1
Which one has better summaries?
It is clearly known that summaries can't provide the same amount of knowledge and insights that an actual book can. So, here we will be finding out which of these two platforms provide better quality of summaries.
The summaries on Blinkist are of good quality and provide fact based information. They cover most the major ideas and insights of the book in a very short form and deliver the reader in an interactive manner.
Headway is no different from Blinkist when it comes to the quality of summaries. They provide introductory information with crucial details. That's the thing about summarizing services, one has to completely trust the service provider, to learn the content effectively.
Score
Blinkist : 1 Headway : 1
Which one offers the best price?
When it comes e-learning, one must choose wisely about where to invest his/her hard earned money efficiently, so that he/she can get the most out of it.
Blinkist offers a 7-day free trial before you sign up for the premium subscription. This allows you to get to know the application better and 7 days are enough to satisfy customers about the quality of content offered. Blinkist has a monthly and an annual subscription plan, which costs $15.99 and $99.99 respectively. The annual plan is popular among the users as it is comparatively a lot cheaper than the monthly subscription at $8.34.
Headway also offers a free trial with limited access to it's features, so as to lure it customers in buying premium plans. Headway also has a weekly plan, a monthly plan and a yearly plan available for subscription. The weekly plan costs a pocket wrenching amount of $8.99, while the monthly plan which also the most popular one, costs at a slightly cheaper rate of $14.99. The annual subscription costs $89.99, which also a little cheaper than Blinkist. Wait before you make any rash decision!
Headway might look slightly cheaper but there have been many complaints from users and critics about multiple subscription at a time, which may cost a lot more than what Blinkist is charging. For example, Headway will try to woo you with a weekly plan at $8.99 and then it will offer you a full month's subscription if you buy the weekly plan a second time. Which will cost you around $18, while the monthly plan of Blinkist is only $15.99
In my opinion the pricing of Blinkist is more convincing and heckle free. If you buy their annual plan, see it as $8.34 per month, which is not so expensive considering the vast selection of books that Blinkist has for you to browse and read from.
Score
Blinkist : 1 Headway : 0
Final Verdict
Total score :-
Blinkist : 4
Headway : 2
The Winner between the two is Blinkist.
As per the score, you should go with Blinkist, and it has truly earned these scores.
Blinkist also updates their existing summaries regularly so as to make the content genuine and uncommon. The platform has the upper hand when it comes to the vast variety of books you can find there. From self help to health, from business to productivity, almost all prominent non-fiction titles are available on Blinkist.
While Headway offers as good quality content as Blinkist, their pricing and marketing is not consumer friendly. Moreover Headway has comparatively very small number of non-fiction titles available on their app. The variety of summaries they offer is limited and thus appears as a major flaw to the customers and critics.
Although the flaws of Headway are negotiable as it is the new player in the market and yet it has managed to give a tickle of competition to Blinkist.
Both the applications are doing great at their own pace, and both have their own pros and cons. But in a stand-off of Blinkist Vs Headway, Blinkist is the obvious winner. If still some of you have got doubts, you can always try both of the applications' free trials, just don't forget to unsubscribe( only if you don't find their services worthy of the price they charge) before they charge you.