Online learning has become one of the greatest platforms in recent days and learners are getting drawn to these websites more than traditional education. However, with the popularity of these websites, it has become quite difficult to understand which online platform is better for the learners.
It is quite essential for the learners to get an in-depth analysis before enrolling themselves into these platforms. Learners often compare the new online platforms like Coursera, Udemy, or Skillshare to the older existing ones like Great Courses Plus. Several times loners get confused to choose among so many new and old existing online platforms for learning.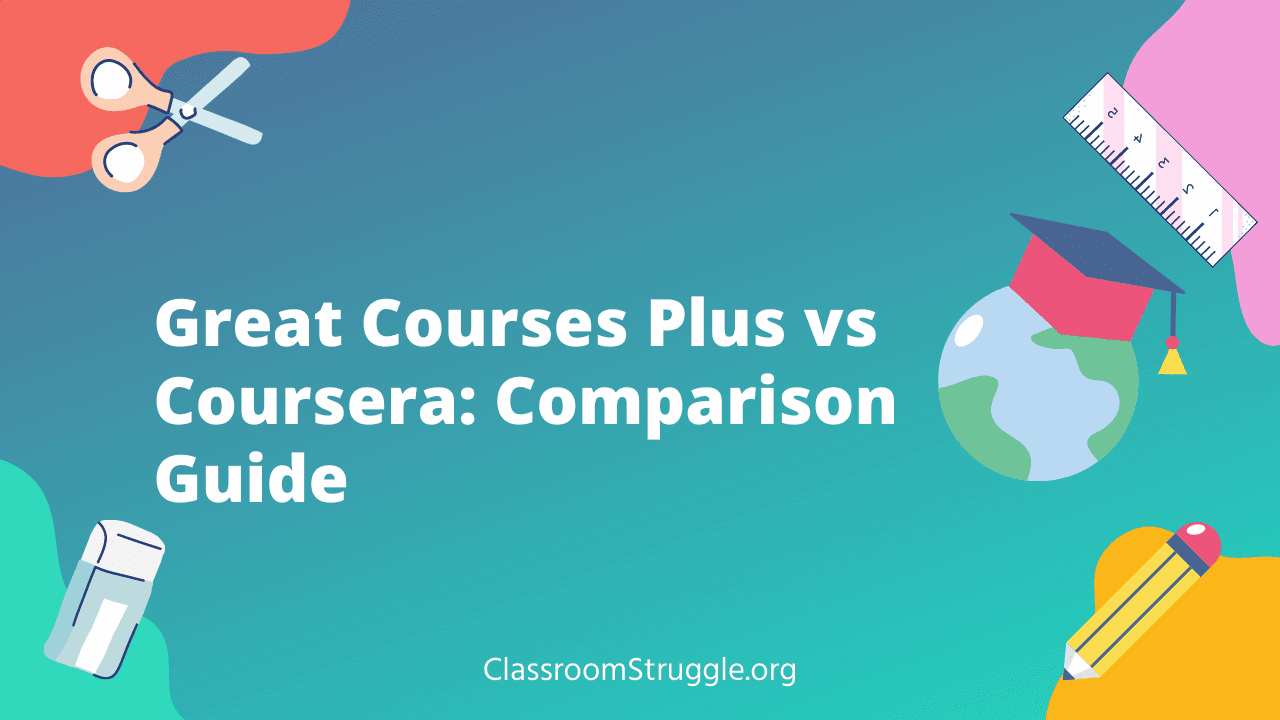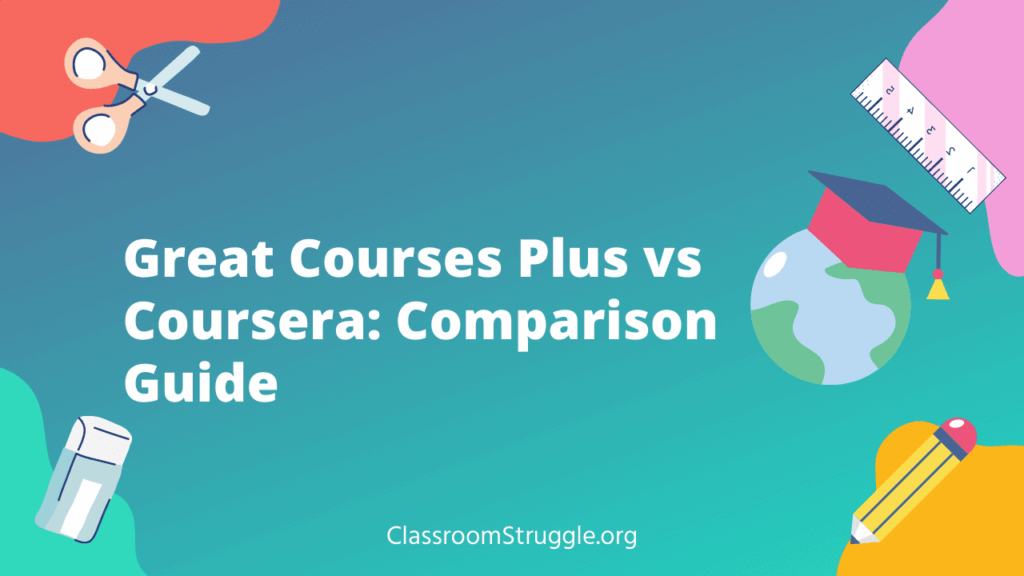 In this following article, we will be discussing the two of the most popular online course platforms, Great Courses Plus vs Coursera. It is not easy to compare them both, as both are message platforms that offer renowned professors around the globe. Therefore, we will be discussing each platform for the learners to choose what is best for them.
Great Courses Plus
The Teaching Company founded the Great Courses and the cousin site, the Great Courses Plus in 1990. In the starting years, the company sold educational materials in the form of tapes, which in the subsequent years was sold in CD and DVD formats. Great Courses Plus is a subscription-based e-learning platform that offers videos and courses for the viewers to learn. This e-learning platform is very popular for its contents which includes the world's renowned top-quality instructors.
They offer more than 700 original courses on a great range of topics and all are delivered by experts. Quality courses are offered by the platform along with a PDF version of workbooks that guides the learners through. Great Courses Plus is considered one of the oldest and best online education solutions in the market with its huge range of topics that can be chosen with a membership. The contents of this platform can be accessed from several devices including mobile devices, desktop browsers, and TV-connected devices.
Great courses plus has several courses in categories of subjects including economics and finance, food and wine, as well as subjects like health fitness, and nutrition. Along with that subjects like history, literature, music, and fine arts, philosophy, and religion, travel, and hobbies are also taught with math and science. The courses are updated every month and new fresh courses are added as well, along with bonus contents.
Coursera
Coursera is one of the most rapid and biggest growing e-learning platforms today which offers courses by top professors from world-renowned best institutions. It was founded in 2012 and since then this e-learning platform has become go-to learning for people. This platform allows their audiences to gain expertise in various skills along with courses and specializations. The courses offered by Coursera are job-ready career skills in various fields of subjects.
Courses offered in Coursera are mostly for learning practical skills in subjects like programming, data analysis to health, business as well as subjects like personal development. The platform is very goal-oriented which allows the learners to be guided well and enhance their practical skills. Coursera has partnered with more than 200 leading universities and companies to bring their learners more flexible and affordable online learning methods.
Coursera is a global online learning platform that has been offering online courses and degrees from leading universities and companies to anyone anywhere across the globe for the last few years. The learners are offered certificates on their performance at the end of the subscription-based course's duration. Moreover, it is a very flexible platform that can be accepted from both desktop and mobile.
To understand which e-learning platform is best for yourself, it is very essential to understand and set your goals. Choosing online learning platforms becomes much easier when you can filter your choices. Therefore to help you choose, we have drawn out the ultimate comparison between Great Courses Plus vs Coursera.
Based on several grounds both the e-learning platforms are compared. Although both are massive platforms, it has been observed that for learning professional skills, Coursera is more reliable whereas the great courses Plus has more entertaining platforms for the courses.
Price
For any learners, enrolling themselves into an e-learning platform, the pricing matters the most. Most of these platforms allow their viewers to get access to the information by subscriptions. Similarly, both Great Courses Plus and Coursera have subscription plans for their learners which they have to pay for.
In Coursera, the learner has to pay a one-time price of $340 per year. The platform also has the option for buying each course individually and getting certificates for it. Learners can also sign up for free for certain courses and get free trials for learning them. In comparison to that, the Great Courses Plus platform offers a monthly subscription to the learners that allows them to view all the courses available.
The learner can pay $19.95 monthly or $360 annually to get a subscription and one can also get a 14-day free trial. Great Courses Plus is a great platform and it's worth it as one course on this platform will cost only $40.
Therefore, we can conclude that on the basis of pricing, Great Courses Plus has much nicer subscription plans that allow the learners to get access to the information at a very modest price. However, there is no refund period for this particular platform whereas Coursera has a specific amount refund period.
Courses Offered
The second most essential basis on which a learner must choose the e-learning platform is the courses offered by these platforms. The difference in the number of courses offered by these platforms can affect an individual's choice of e-learning. Great Courses Plus, as mentioned earlier, offers more entertaining courses to their audiences. Whereas the courses in Coursera are more professional.
If you are looking to improve your knowledge or skills in subjects like history, literature, and cooking or the subject related to entertainment, Great Courses Plus is a great choice. This platform allows the learners to get deep knowledge about any subject. Starting from subjects like astronomy to subjects like history, this e-learning platform offers very in-depth knowledge about the courses. Whereas, on Coursera, a learner can have access to some of the best online courses about professional topics.
Coursera allows their audiences to learn new skills or enhance themselves which will help them in improving their career opportunities. Moreover, they also offer certificates for every individual course that help them learn to boost their abilities.
Henceforth, based on courses offered by each e-learning platform both are very good. It further depends upon the audiences; whether they want to opt for professional courses or entertaining ones.
Quality of Information
The information that is provided by each of the e-learning platforms is quite essential for determining which one is better than the other. As discussed earlier, the Great Courses Plus offers courses that are more entertaining as compared to Coursera that offers professional courses. Since the courses in Great Courses Plus are more entertaining the viewers get attracted to it more as the contents can be watched for several hours.
However, the courses do not offer any certificates and the skills learned are more for leisure, thus it does not offer much for boosting one's career. Coursera, in comparison to Great Courses Plus, offers more professional courses that help the learner enhance their skills and boost their career opportunities. The learners also receive certificates after completing their courses and due to this reason the viewers are more attracted to this particular platform. Moreover, Coursera also offers quizzes and assignments for the learners to practice their skills.
From the above information, we can conclude that Coursera is slightly better than Great Courses Plus as they offer certificates and also help the learners to improve their skills by providing assignments to them.
Instructors Offered
For any e-learning platform to get better views and ratings, it is very essential to have good quality content and instructors. It is very essential for the instructors to make their content more interesting and engaging so that the audiences are drawn to it. Great Courses Plus offers instructors who put out very innovative and impressive content which attracts audiences. The instructors of Great Courses Plus engage the students in both fun and educational ways.
The instructors are selected on a very strict requirement procedure and are very independent in their fields. Whereas, instructors in Coursera are well-renowned ones coming from the world's top learning institutions like Harvard, Yale. However, the courses are very goal-oriented, which does not always engage the viewers. Although it is very essential for career growth, the content in Coursera is more serious, and compared to Great Courses Plus is not much interesting.
Therefore, when the comparison is drawn between Great Courses Plus vs Coursera, the former one has more engaging instructors that present their contents in a very impressive and innovative way.
Design and Interface
Since e-learning platforms are for every type of learner, it is very essential for the sites to be very engaging and easy to navigate. The design of an e-learning platform determines its popularity among its audiences. Easy navigation always helps these platforms to get better reviews and learners. Great Courses Plus is designed mostly for the use of beginners. The learners can easily search for their interesting topics in the navigation bar or the search bar.
Signing up for the courses is made easier and one can also take free trials and later continue with their subscription. Furthermore, Great Courses Plus also has a nice mobile app for the learners to watch on the go. The app is well developed with an interactive design and has a good user experience.
Coursera has a very well-designed template for its e-learning site where all the featured courses and recommended courses can be viewed. Navigation is very easy to use with a user-friendly interface. The users can easily have access to their desired courses and the process of subscription is also very easy. Hence, both Coursera and Great Courses Plus have great design and interface e-learning sites. Both are user-friendly and have a great design for their audiences to have a great experience and deliver their contents in a very impressive way.
Accessibility
It is very essential for the e-learning platforms to be very accessible to their audiences so that the learners can gain the most from them. In Great Courses Plus, the majority of the contents are in the video format and allows the viewers to watch them at their own pace. Similarly, Coursera also has video-based courses and moreover, they also offer assignments to the learners for enhancement of their knowledge.
However, it has been observed that certain courses in Coursera are built in such a way that the learners have to complete an assignment before they move on to the next section of the course. This system sometimes becomes unattractive to the learners. However, it is essential for the learners to get the appropriate knowledge about the course. While both the platforms are very well oriented, Coursera also has some courses which are set with deadlines as well as waiting for registration, which makes Great Courses Plus a better option for the learners.
Great Courses Plus vs Coursera – Overview of the Comparison
According to the overall score of the Great Courses Plus vs Coursera comparison, it has been observed that Coursera has a, higher rating among the two with a score of 8.6 whereas, Great Courses Plus has reached the overall score of 7.3. the great courses Plus is a simple easy-to-use and navigates e-learning platform which has professionally made courses taught by expertise. Whereas, Coursera offers only professional service with flexible timetables and a variety of features to choose from. Furthermore, one can also get a degree from Coursera as they offer courses through top universities in the world. Both of these e-learning platforms are well suited for beginners as well as advanced learners and offer certification.
Although both the platforms are subscription-based, Coursera has a single one-time payment subscription method along with a refund period and thus, several learners opt for this particular platform. However, the monthly subscription plans of the Great Courses Plus lets the learners opt for courses with more flexibility. On the basis of interaction with the learners and the site, Coursera has a good amount of assignments and quizzes for the learners which is not available in the Great Courses Plus.
Both Coursera and Great Courses Plus are brilliant e-learning platforms, however, on the basis of the comparisons done above Great Courses Plus is more accessible than Coursera. Despite Coursera having quality content, the Great Courses Plus has more versatility in comparison. However, it also depends on the choice of the learner which e-learning platform is best for them.