Writing a term paper is a challenging and time-consuming process. You have no right to submit a poorly written project since it will ruin your college reputation.
Although creating term papers and other academic projects can turn into a disaster, there are some recommendations that you can use to generate the paper that deserves an A+.
What is more, you will get a better idea of how a college term paper format looks like and how polish it up to make it look good.
First of all, let's start with a quick definition of what a term paper is. Before we dive too deep into the process of writing, make sure to check a standard definition of the project:
A term paper is an academic project that is usually written in a form of a research paper or a report.
As a rule, high school, college, and university students are assigned to write term papers as part of their programs. When it comes to the final score for a particular discipline, this type of academic project has great value in it.
Just like in the case with the rest of college papers, structure plays a crucial role in a term paper. A well-written project has a clear structure that helps your target audience absorb information from it. What is more, a good structure of a term paper will help your readers not to get lost as they keep on reading your text.
An Ultimate Guide on How to Craft a Term Paper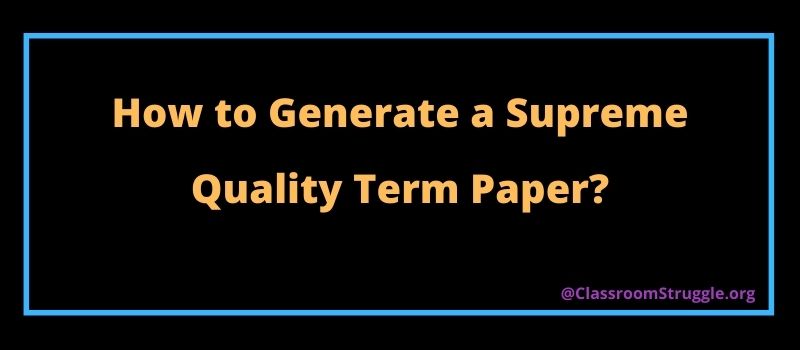 Here's an example of how a college term paper should be structured:
Title page. This page usually consists of the title of your term paper, your name, instructor's name, course and code, and the date.
This is a brief summary of the key ideas of your project, your findings, and theoretical approaches that you used in the process of work.
Table of contents. Make sure to include this section since it helps your target readers to switch between the sections. As a rule, this section includes headings of each part of your term paper and page numbers.
Introductory section. This is an opening part of your term paper, where you let your readers know what your project is going to be about.
The body. This is the main section of your term paper that usually includes sub-sections due to the fact that the topics tend to be diverse. Make sure to present all the sub-sections in a logical order.
Concluding section. This is the last part of your term paper that ties up your project in a clear ending. In this section, you're required to restate the main ideas of your project, your findings, and tell your readers why your findings are important in a particular field of study.
This part of your term paper includes each source that was used and cited within the body. List them all in alphabetical order.
In addition to the sections described above, you can also add abbreviations, tables, and figures if required. Many term papers have loads of details that you can't place within the text, which means you can include them all after the section with the references.
Perform In-Depth Research
Doing research is an indispensable part of writing a term paper. Before you start looking for help with term papers, keep in mind that your research should be aimed at finding a sufficient amount of information on the topic that you work on. At this point, you will need to use a range of skills, such as critical thinking, note-taking, and active reading.
Besides, make sure to:
Find, sort out, and analyze the existing materials on your topic. As you browse all bits of information, always refer to the research question. Find out what the author's main point is and in what way it is related to your question. Choose the sources that you will be able to use for your term paper.
Don't forget to make notes as you read and highlight all important details and quotes that can be included in your project as well. Make sure you write down all the sources that you took this or that information from.
To get a better idea of the topic, ensure to use diagrams, mind mapping, clustering, and charts, as well as collect all of your ideas in one place.
How to Pick the Right Sources for Your Project
If we draw a parallel with the field of building, we can state that foundation is the cornerstone of every other building.
If you fail to provide a solid foundation, your house is going to fall apart in a twinkle of an eye.
The same rule applies in the case of term papers. Without credible sources and authoritative information, you will write a poor quality piece.
At the library and online, you will find loads of materials on your topic. How to choose the most trustworthy source for your term paper? Make sure to use your critical thinking skills when you deal with every other source of information.
Here's what you have to pay attention to:
Is the information relevant?
Layout and design. Does the source look professional?
Is it easy to find the author of this or that source of information? What do you already know about the author and their credentials?
When you check the source, it is important to make sure it was created for a professional or educational purpose. If the authors of the source are trying to sell something, ignore it.
The style of writing. Do you see any typos and grammatical errors? Skip this source – it is not reliable.
Quality and amount of info. How much information is available? Does the source contain any numbers, graphic information, or references? If there are no external links or you see broken links – you're dealing with a poor source.
Does the source include information that is related to your topic?
Is the chosen source 100% unbiased? It is important to deal with authoritative sources only.
Once you obtain a sufficient amount of information on your topic, it's time to build a strong outline for your term paper. This is where you should incorporate all of your new quotes, examples, expert opinions, and facts.
If you have successfully written your first draft, make sure to proofread and polish it up. Do not neglect your chance to re-read your term paper several times. A lot of college and university tutors perceive grammar, punctuation, and style mistakes as personal insults.
In other words, you have to exert every effort to make your project look as good as possible.