Looking to enroll into one of the finest universities in Arizona? But before that, you wanna know if Grand Canyon University is Accredited or not?
No worries, we got your back as we are discussing the same topic today.
With the advent of the summer, the school season is at its prime which means a lot of students will be looking to get admission in the most prestigious universities around the world. Catering to this requirement and fulfilling the need by providing world-class facilities for the next generation students, the Grand Canyon University in Phoenix, Arizona opens its arms to prospective students in 2020.
GCU Intro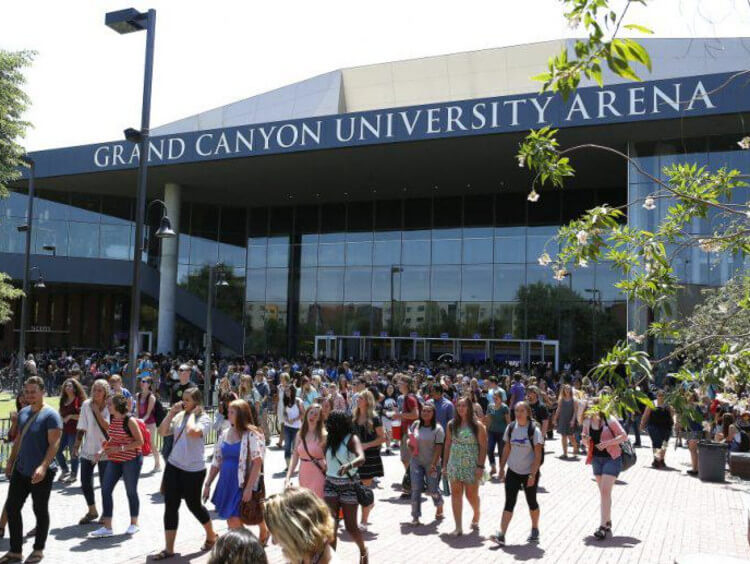 The Grand Canyon is a one of its kind, for private Christian University that helps students be a part of their 'grandiose' team not just through campus enrollment but also online classes, which accounted for at least 20,000 students alone in the year 2018.
Read More: Grand Canyon University (GCU) Student Portal Login Guide
In this section, we will take you through the grandeur of this university and why it should be at the top of your priority list this year and later we will also discuss whether Grand Canyon University is accredited and what makes it unique to other schools in Arizona.
So let's take a look around the university in the next section.
Step Into the Gates of the Grand Canyon University
Grand Canyon University (GCU) has been a biblical college since the beginning. Initially, it stood as a Baptist only university but is currently serving as an interdenominational university for its students in Phoenix, Arizona.
The campus life is one to die for! With state-of-the-art features highlighted in its different university buildings, GCU also features popular dining options that make their students boast plenty.
If you are willing to be a part of their Bachelor's program which consists of a good four years, you can safely call it home as the vibe remains unmatched.
Academics can be easily pursued through offline and online resources that are updated with the latest course material.
GCU also offers a two nights free stay if you get admission and are approved for travel. You can live the full on-campus experience to set your mind to it.
What Else Makes GCU Unique ?
Grand Canyon University is unique in many ways:
GCU has options for students to attend day, evening and online classes as well! If you are busy with a full-time or part-time job, you can always customize the way you like to study.
It offers student loans and scholarship programs as well to students who have an excellent academic record
Do not compromise on either as the university allows immense flexibility.
In addition to this, the university also ensures to indulge its students in various co-curricular activities.
There are also various clubs to get your mojo flowing including social, community outreach, spiritual, cultural, performance and fine arts and events to name a few.
Not fond of working too hard to earn your academic and social credits? Earn all of them and ditch the hassle even before you join college.
GCU offers all kinds of options for students who are excited to form wonderful lives through their enriching programs and experiences.
Those endowed with the gift of learning and willingness to dedicate their lives to education can go through the various scholarship programs available and get a major hike in the entire tuition fee at GCU.
Now let us move on to much-awaited topic…
So, How Popular is Grand Canyon University Accreditation ?
It is accredited under the state laws and various others that we will be discussing in the next section. It is quite fascinating to see how far the university has reached since its inception. Skip the wait and hop on to the next section.
Is Grand Canyon University Accredited ?



Since its inception in the year 1968, Grand Canyon University has been accredited to the Higher Learning Commission (HLC).
The Arizona State Board for Private Postsecondary Education also recognizes the University by and large.
By getting accredited to a higher board, the badge of quality is given to the university.
An accreditation is sorted out by various constituent bodies that include employers, students, the Federal Board and the State Licensing Board. The highest order – The Higher Learning Commission – reconfirmed GCU's accreditation again in 2017 for its ambitions, missions, integrity and so on.
The volunteers at GCU sent the HLC the following peer review objectives in order to be accredited –
Administration
University Integrity
Student academic achievements
University mission
Resources adopted by students
Organizational Behaviour
University assessment
Community relationship
Student admissions and services
Educational and co-curricular activities
Teaching and learning effectiveness
In addition to this, Grand Canyon University has accreditations to several boards for its specific programs as well. These are listed as below –
The GCU ACBSP Accreditation: Out of all its programs, 19 of them fall under the GCU ACBSP Accreditation which caters to the Colangelo College of Business. It is administered through a Business Field test which is issued by the Peregrine Academics for undergraduate college students.
The Association for Advancing Quality in Educator Preparation (AAQEP): The AAQEP has awarded accreditations for the two of the programs in Grand Canyon University. This includes the Initial Teacher Licensure Programs and some advanced programs which include the TESOL and the Reading exams for Elementary and Secondary education.
The National Addiction Studies Accreditation Commission (NASAC): The NASAC provides accreditation to the Grand Canyon University's College of Humanities and Social Sciences' Master of Science in Addiction Counseling program. If you are seeking to become an addiction counselor, enrolling in GCU is a good option for you.
The Commission on Collegiate Nursing Education (CCNE): All nursing programs under the GSU are accredited by the Commission on Collegiate Nursing Education (CCNE).
As the University grows old every year, it stays fresh with new strategies to improve the quality of education for all its students.
There is a separate page dedicated to featuring the achievements of GCU's students on their website portal.
The university is also recognized by the state of Arizona and Nevada. It is also a participant of the SARA or State Authorization Reciprocity Agreement which includes other cities like Michigan, Alabama, Oregan, Texas, and Utah to name a few.
Look No Further
To sum it up, being an apart of Grand Canyon University would enrich your student experience. You can find more info about University Accreditation at https://www.gcu.edu/academics/accreditation
Begin your journey with GCU today and get to be a part of their iron-clad alumni!