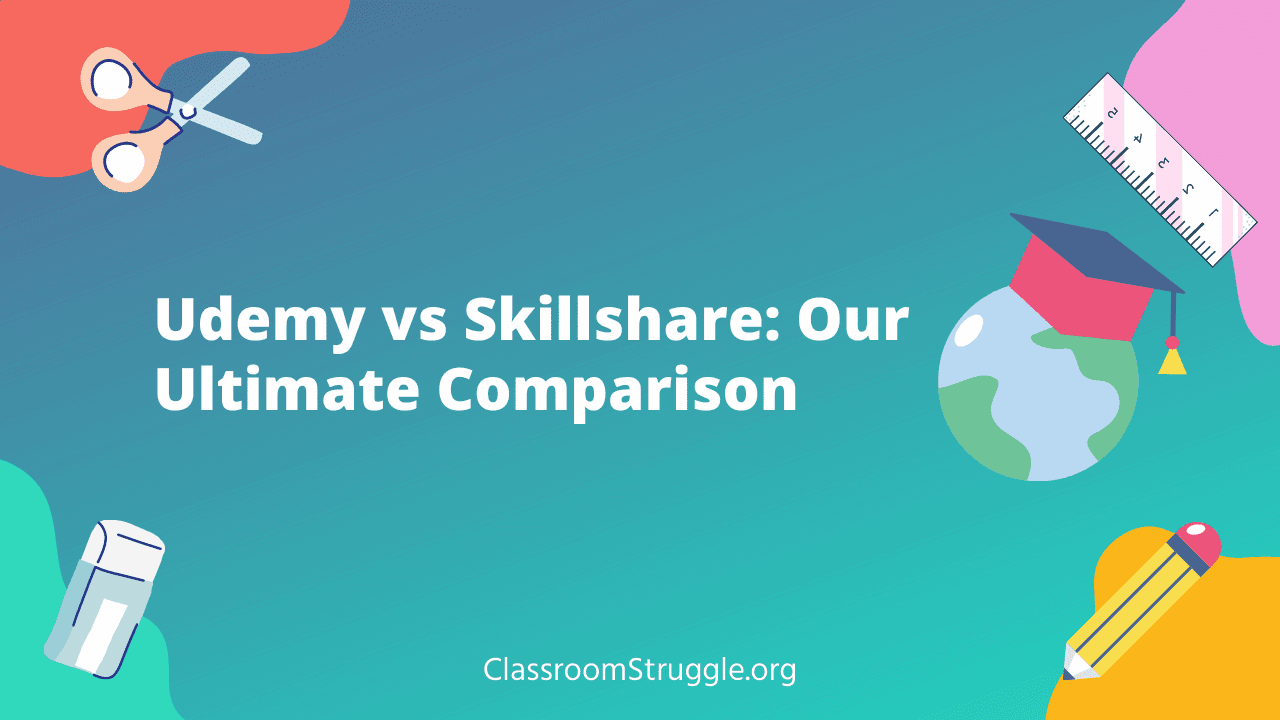 It can be very doubtful when it comes to choosing e-learning platforms. Online learning has become very popular over the last few years. But with its popularity, the number of choices has also increased tremendously. More or less every online learning platform performs excessively well and offers various courses for a wide range of topics.
They provide an immense amount of content for the audiences. However different online learning platforms have different ways of delivering their contents. Every individual learner has their own way of learning new things and thus, it depends upon the learner on which platform to choose.
Several e-learning platforms are available today in the market like Skillshare, Udemy, Great Courses Plus, Coursera, and many more. Each such platform has its specific way of teaching and delivering the contents to the audiences which makes them different from each other but similar overall. These platforms are mostly subscription-based, which means that the learners have to pay a specific amount and register themselves under a plan for getting access to the contents of the e-learning sites.
In this article, we will have a discussion about two of the most popular e-learning platforms: Udemy vs Skillshare. This will help you to choose wisely among the two and learn what to do and not to do. It is very difficult to choose the right online learning sites for yourself, depending on your learning ability and understanding. However, you can always rely on some of the key points for understanding which online learning site is best for you. But first, let us learn about each of the e-learning platforms.
[elementor-template id="2865″]
Udemy
Founded in May 2010 by Eren Bali, Gagan Biyani, and Oktay Caglar, Udemy is an American massive open online course (MOOC) that provides professional education courses to both adults and students. They offer various language options including English, Spanish, Portuguese, French, and many more. The headquarters of Udemy is located in San Francisco of California with several other offices around the globe. This online platform offers professional courses to their learners, especially to improve their job-related skills. Several courses are offered with certification at the end of the course.
The instructors are from well-renowned institutions around the globe and are highly skilled. Udemy offers its contents through videos, PDFs, PowerPoint presentations, audios, zip files as well as live classes. The learners have to subscribe to the sites for getting access to the contents. The instructors are also very interactive which allows them to be engaged with the learners and discussion is done via online boards of the site.
Udemy offers more than 7000 training courses to the learners which include topics from categories like entrepreneurship, business, arts, health and fitness welfare, music, language, and technology. Certain courses in this online platform are also free depending upon the instructors. In recent years, Udemy is now also available as a mobile application and can be used on the go. It has become one of the most growing MOOCs in the market today.
Launched by Malcolm Ong and Michael Karnjanaprakorn in 2010 with its headquarters in New York, skillshare is one of the most popular online e-learning platforms. Similar to Udemy, Skillshare also offers numerous courses for its viewers. They offer various courses including topics ranging from science to IT, programming, writing, music, illustration, and other skills which help the learner to enhance and propel their career.
All the courses are self-paced and are taught by renowned instructors from all over the world. Many notable instructors like Seth Godin, Jessica Hische, Susan Orlean, Marc Ecko, Guy Kawasaki, and several others have conducted classes for the online courses on this platform. The contents are mostly delivered through well-informed videos where they mostly aim to interact with the learners rather than just lecturing. The site focuses on practical skills with hands-on learning projects for their audiences. Initially, Skillshare offered small-time courses, but as they started receiving lots of good reviews in 2011, they grew at a greater pace.
Skillshare has become an open-source platform for every individual, as they can create their own courses and teach people accordingly. Similar to Udemy, Skillshare is also subscription-based and courses are offered based on the prices set by the instructors.
Both of these e-learning platforms have unique specifications that allow the audiences to get attracted and we will discuss broadly both for your ease.
Pricing
As both Udemy and Skillshare are subscription-based e-learning platforms, pricing is one of the major factors. Udemy offers a wide range of courses, and each of them has different pricing starting from $9 to $200. Udemy lets new learners register themselves for free and have access to free catalogs, and they can also pay for the courses according to their desire. Furthermore, they offer several seasonal discounts to the learners and they can avail themselves the discounts througout the year.
Whereas, Skillshare has three types of subscriptions for their audiences to register into, namely, Free, Premium, and Team accounts. The Free account lets the learners have access to free classes but are interrupted with advertisements, moreover, they can also download certain materials. In the Premium version, the learner has to pay membership costs of $19 per month or $99 per year, which further lets the users have access to a wider range of materials as well as offline versions of the classes for them to view on the go. The Team accounts are mostly for employees.
Therefore, if we draw a conclusion on the basis of pricing, although Udemy offers a great range of courses, the option of the plan is better in Skillshare as you can access various courses with just a one-time payment of $19 a month or $99 per year.
Ease of Use and Interface
The navigation system of an online learning platform plays a very vital role in its successful reviews from the audiences. The ease of use allows the learners to have a comfortable experience and user-friendly approaches. The registration for both the e-learning platforms is overall very easy and the sign-up can be completed in just a few steps. Both Udemy and Skillshare are known for promoting advertisements for their respective courses. In Udemy, the interface is well-designed and is very impressive which attracts the audiences and lets them be engaged. The platform has a very cool and chic design and has a very well-developed playback system where students can add notes while watching. Skillshare has a similar interface and is very creatively designed, however, their video playback lacks a little compared to Udemy when compared. Furthermore, Skillshare offers a very intuitive platform where you can get access to your courses without any hassles.
Overall both the platforms have a very nicely built interface, but when compared in very detail, Udemy would top over Skillshare in this category.
Winner: Udemy
Courses Offered
Nowadays, every e-learning platforms have a long list of online courses available for a desired amount of money. The more courses they offered, the more rating it gets. Udemy and Skillshare are a few of the top MOOCs in the market today, mostly known for offering numerous courses for a wide range of subject categories. Udemy has more than 100,000 courses for various topics available on its platform.
Some of the courses are free whereas some are paid courses at a reasonable price. Udemy offers courses in fields like lifestyle, design, marketing, personal developments, photography as well as in subjects like IT and Programming, finance and business, health and fitness. The courses are further available from beginner to advanced level for every audience. Although they have a long list of courses, it can be a bit hassle for the audience to search for a specific course as well. Moreover, it has been also observed that many courses have a poor quality of delivery as they do not have a quality check filter for every course.
In Skillshare, there are over 27,000 online courses, similar to Udemy, some are free and some are paid courses at a reasonable price. Skillshare has different categories of courses where the learners can create, learn and thrive. They offer the courses according to such categories.
They also offer individual classes and group projects. They offer courses like illustration, film making, animation, creative writing, photography, music, entrepreneurship, leadership, and management as well as lifestyle and productivity.
It has been also learned that some of the course descriptions are not enough detailed which prevents the audiences to learn about the course properly. But the courses themselves are very details and well built with enough amount of pieces of information and are very professional. Thus they have a good review about the classes.
Therefore, when drawn comparison, Skillshare is better as it offers a variety of courses with different genres and delivers it at a very creative and innovative method. Although Udemy has more number of courses, Skillshare rules over with the variety of courses. Further, Udemy also lacks proper quality checking which rules them out in comparison to Skillshare with highly informative courses.
Instructors Offered
Another very essential requirement for an online learning platform to get better views and rating is the instructors they offer. The MOOC market today is running successfully only because top-class instructors from well-known universities are offering themselves. The instructors for these platforms must have the skill to attract and engage their viewers. Both Udemy and Skillshare give tough competition in this category. Udemy has many well-recognized instructors.
The courses are also offered in various languages other than English that help the non-English speaking viewers to take interest. However, Udemy audiences have observed that some courses have a very quality which includes poor delivery of the contents, which makes it less choosable. Skillshare also shares a similar problem, but here the instructors have the courses designed in such a way that the students are well engaged in live classes, group assignments, and many more such interactive sessions. But, Skillshare does not have much language diversity as most of the courses are in English.
Thus, while drawing the conclusion, both have pros and cons in this particular category and we can not determine which online e-learning platform is better than the other. It depends on the learners, which platform is comfortable for them and better. Another factor that has to be mentioned, is the problem with certification for both platforms.
Presently, learners mostly go to these online courses to get certificates, however, Skillshare does not generate certificates for the learners despite subscription, which is led down. In the case of Udemy, once you complete your course, you will be able to generate a certificate, but the problem that lies here is that the certificates are not accredited by recognized or affiliated universities. Therefore, the certificates have no formal value and can not be much helpful in enhancing a CV.
Winner: Tie
Accessibility
For an online learner, it is very obvious that the individual will wish to have access to their data at all times. In Udemy, online courses can be availed at all times and they also show the recommended time one should invest in a particular course. But, the learner can take an ample amount of time to complete their courses at their own pace. Similarly, Skillshare also lets the audiences complete their courses at their own pace. Furthermore, they have the videos well divided for each class and also allocate specific times for workshop courses. Both the platforms are available on desktop browsers, iOS, and Android devices. Henceforth, in this category, both the e-learning platforms are well-developed and are user-friendly.
Winner: Tie
While concluding, it is quite evident that Skillshare has more plus points compared to Udemy. On the basis of pricing, ease of use, interface, and courses offered, Skillshare has better options and opportunities for its viewers. However, one must also realize that it depends on how one wants to access these platforms. It depends on the learner's choice of learning and ability to understand the concepts. Therefore, you must analyze yourself before enrolling in any e-learning platforms.
Want to see how Skillshare stacks up against Masterclass? Well we've written a detailed comparison here.