Looking for right answer to the question you searched for? Make sure to check below for the same:
Revised Social Studies Questions & Answers
Q.) On a production possibility curve, data points that fall outside of the curve represent
Inefficient allocation of resources
Balanced allocation of resources
Ideal production.
Currently unattainable production
ANSWER: 4. Currently unattainable production
Check Recently Added Questions & Answers on Social Studies
ANSWER IN DETAIL
I) INEFFICIENT ALLOCATION OF RESOURCES: INCORRECT OPTION
The region inside of a production possibility curve shows an inefficient allocation of resources. This indicates that the economy is inefficient in production or in simple terms, the total output at present is below the output capacity. This may occur because of reasons such as insufficient utilization of resources and technology to its full potential.
II) BALANCED ALLOCATION OF RESOURCES: INCORRECT OPTION
The points present on the production possibility curve (and not the points outside the curve) represent a balance in the allocation of resources which means that an economy is functioning at maximum productive efficiency and output of a particular good cannot be increased any further without compromising the production efficiency of another good utilizing the current resource. The points on a PPF curve show that the production is in a balanced state and therefore indicates an efficient allocation of resources.
III) IDEAL PRODUCTION: INCORRECT OPTION
Ideal production also indicates that an economy is performing according to its maximum potential and thus the resource allocation is perfect. Such a situation is represented by the points lying on the Production possibility curve and not by those lying outside the curve.
IV) CURRENTLY UNATTAINABLE PRODUCTION: CORRECT OPTION
All data points outside the Production possibility curve represents unfeasible production that cannot be attained by the currently obtainable resources and technology. It indicates a possibility that increased production in terms of quality and quantity can be attained in the future if sophisticated resources and advanced technology are obtained but with the present resources, it is not possible to attain that level of production. Such situation may arise due to a lack of sufficient labor resources or a lack of advanced technologies and methods used by the system.
Therefore, only the data points lying outside of the production possibility curve (PPF curve) direct towards a currently unattainable production by an economy.
Feel FREE to Bookmark below image ->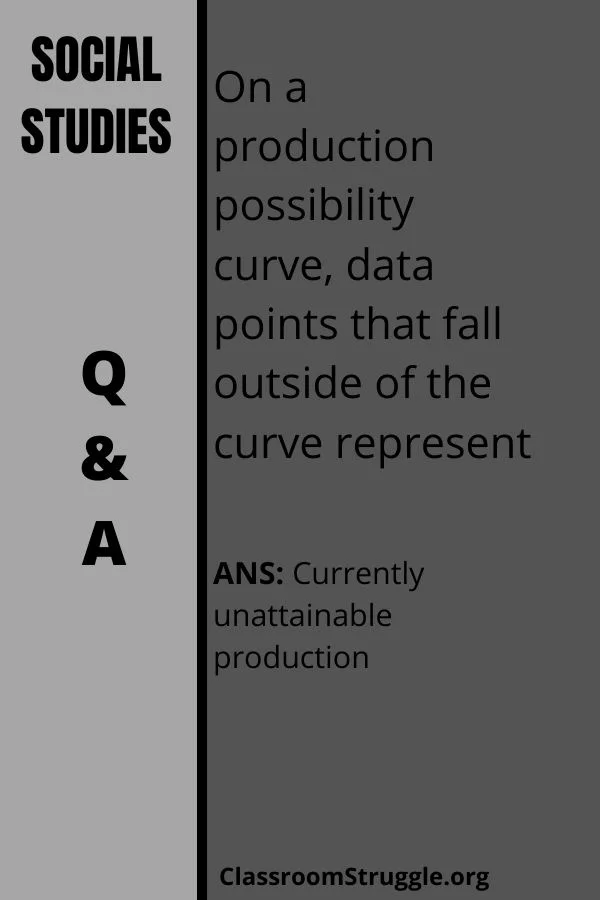 Hope you find the answer!